Today many companies especially retailers want to jump into omni-channel marketing. But before going to omni-channel they need to get a lot of basics right.
Before we go further a quick round of basics on what is the difference between multi-channel, cross-channel and omni-channel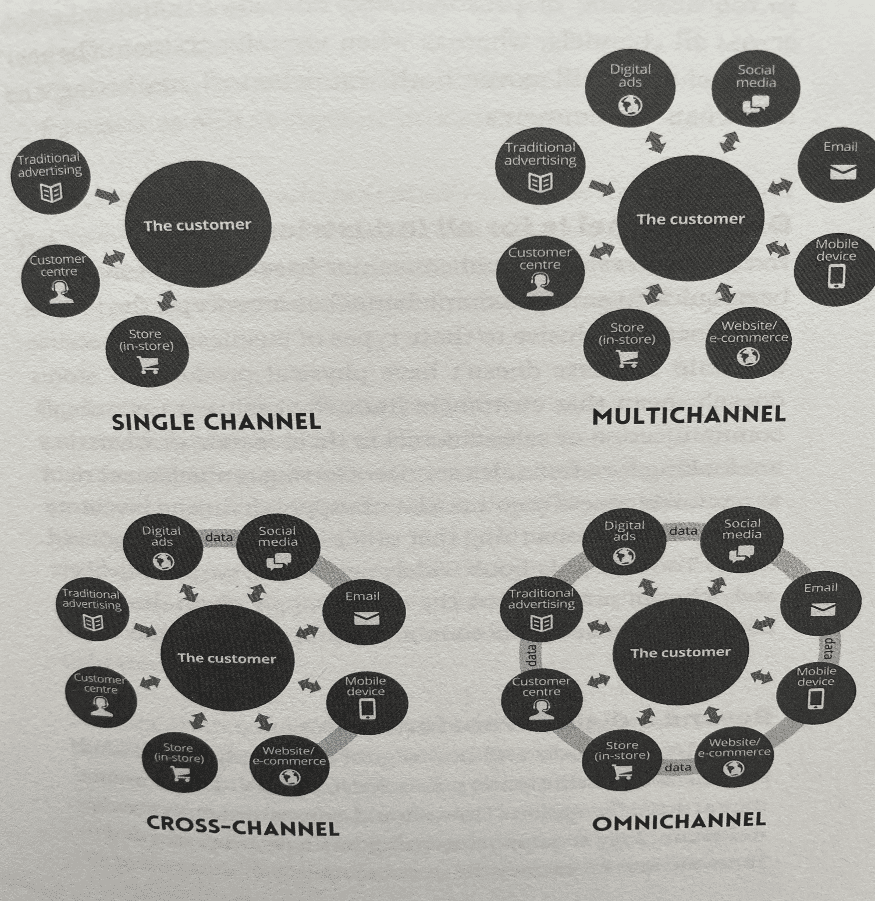 (Source: Make it all about Me – Book by Rasmus Houlind)
Step 1: Fail fast to find the most relevant channels and its standalone ROI
Brands have to build the most relevant channel to reach their consumers directly – to try and 'fail fast' and see what worked best for them. Whether this involves leveraging a stronger sense of community on a social platform or running a loyalty program via CRM or doing an offline event or providing an experiential offer across offline and online – the crux lies in experimenting and finding the correct way to stitch how the customer is interacting with your brand and what are his preferred ways of communication. This may be different for different brands depending on the persona and its previous marketing efforts . Once the channels are zoomed in the relevant channels and their ROI should be analysed.
Step 2: Get consistency of messaging first , then multi-channel to cross-channel synchronization
There is no point of going multi-channel unless you have defined a clear workflow and guidelines for messaging. The worst examples include companies being very responsive on email but extremely poor on social channels. That is being inconsistent and this erodes the brand promise and infuriates the customer. Once the messaging is consistent its easier to do cross-channel synchronization with the help of marketing automation platforms.
Step 3: Map the entire data flow right before choosing a marketing automation platform and launching omnichannel
There are many marketing automation platforms who have a way to integrate email, social, push and CRM initiatives but one pitfall is that they also tend to have their proprietary data segmentation approaches. This creates segment silos in the organization and does not allow a 'one view' for customer segmentation. In some cases , offline data is not handled as well as online data. This creates blockers for omnichannel marketing. For instance , if the segmentation for email only has online visitors data , it will be difficult to send loyalty alerts to in-store visitors. Having the same segments and data taxonomy across various customer outreach platforms helps in creating the right infrastructure for omnichannel marketing. Customer data platforms are a good investment before embarking on omnichannel
Another area is training the frontline sales team at the retail store to encourage the consumer to share email or phone nos for receiving loyalty points and making this process seamless.
Step 4: Create a method for omnichannel measurement
Once you have the investment in data flow and marketing automation , the next step is to create the capability to make near real time cohorts or atleast identify in realtime within the channel – which cohort does the customer belong to. This helps in tailoring the communication and over a period of time it can be personalized. Similarly as
O2O attribution is important to create and drive loyalty programmes , its important to draw correlations between purchases and marketing efforts across online and offline channels.
Experimentation with O2O attribution using ideas like geocoded vouchers are a good way to test incrementality of marketing spend across online and offline.
Step 5: Start reporting funnel-based and customer engagement metrics, rather than channel-directed or campaign-based measurements.
It is vital for various teams to take a look at customer-based metrics. BI teams usually report channel-wise metrics, while marketing teams report campaign metrics. Developing a customer oriented culture and discussing funnel-based cohorts is essential for the right insight into personalization. Once the customer based cohorts are dissected more , the personalization and journey orchestration became clearer.