Rev Ops is getting attention in non SaaS companies. Gone are the days where a very large Excel sheet would crunch the revenue numbers from various sources before the quarter end. Tech is now playing a major role in automating the cycle. Spectra spoke to Kavita Shenoy , CEO and founder of Voiro , a leading provider of Rev Ops / Rev Tech tools . ( https://voiro.com/)
Before we define Rev Ops , here are some scenarios where its use case is self-explanatory
Common business scenarios crying for Rev Ops help
Before a quarterly review, a team of young analysts spends long nights reconciling numbers between sales, finance, and operating teams
Before a QBR , there is discrepancy in the revenue share owed to a partner and is a bone of contention
Before a big revenue month at a publisher (e.g. December) there is no way to forecast the revenue with sufficient accuracy based on the sales pipeline except to have detailed calls with sales teams and apply some logic
Durin a marketing review, there is no consensus on whether the new digital sales outreach channel is producing qualified leads for sales and sales keep contesting it during the quota allocation
In these situations, the indefatigable Excel Sheet (and Pizza delivery) slaves through the process alongwith the desolate analyst . The smart cookie who wrote the macro after consuming copious calories gets an award and that macro is even named after him for generations to come. The only way to avoid this is the use of Rev Ops.
How is Rev Ops different between other functions and how is it applicable in non-SaaS companies
So what is Rev Ops ? Rev Ops and its tech partner Rev Tech is a way to automate the process from lead capture to revenue reconciliation ( internal and external) with a set of tools and focused people. It differs from BI and Sales Ops and Strategy and Ops as it is tech driven and results driven rather than reporting driven. While RevOps has gained maturity in SaaS companies, it is now reaching 'revolution' status in non SaaS companies as well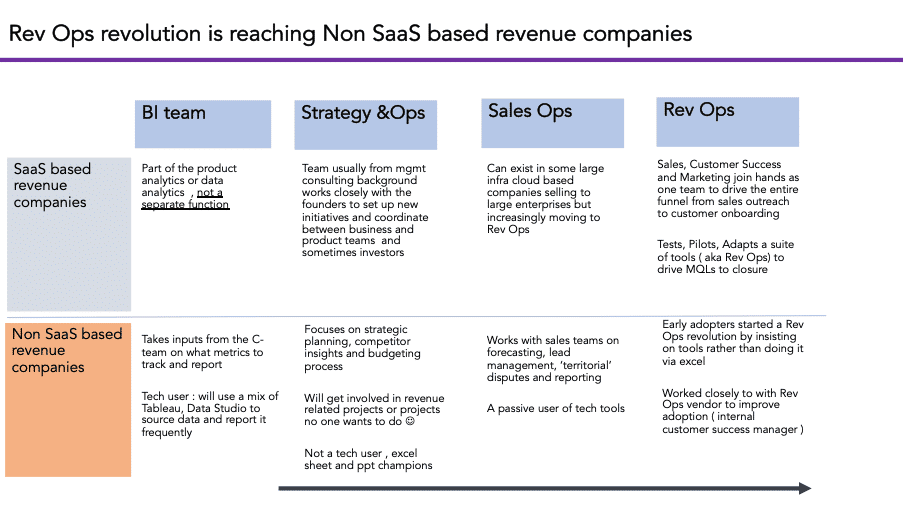 Rev Ops in SaaS and non SaaS companies and different teams
Why Rev Ops NOW
Kavita Shenoy believes the revolution is here due to 3 big factors
The new workforce that values quality of work rather than drudgery and is looking for ways to automate
Digital is getting more and more mainstream across all kinds of companies – and hence the slow institutionalizing of a product mindset to growth and ramping up of the product organization in non tech companies
And the 'Rev ops' problem has become big enough for the C-level executive to say – enough last minute scrambles lets get this automated
The biggest barrier to Rev Ops adoption
Investing in Rev ops is not an easy decision, it cuts across various functions across sales, operations, marketing and even finance
It has a recurring cost over and above other investments like a Salesforce CRM leading to questions like – 'we just implemented Salesforce, do we need this also'?
Mindset of 'don't fix if it's not broken'
Deeply invested revenue leaders are making the change and championing Rev Ops
While these barriers exist, Kavita felt that in her conversations with CXOs there is a high level of positivity and drive to use tech and not be married to a hotchpotch of legacy ways of doing it. She believes this next generation of revenue leaders who are deeply invested in scaling the right way across teams are becoming the champions of Rev Tech in the organization. These executives fight the internal battles and if needed personally play the bridge between the tech organization and business and vendor to get it done.
Build vs buy : Product is clear – they don't want to build Rev Ops themselves
In organizations with a product and tech team ,product is an integral part of the decision making process and sometimes the first team to say we need a Rev Ops Tool. Kavita said that build vs buy is a conversation that often comes up – however product teams internally wants to work on customer facing or more 'sexier' projects like data and AI . Rev Ops tends to fall into the plumbing category of projects and needs a lot of organizational coordination
Any RevTech implementation is dependent on 2 success factors: tallying the numbers and removing legacy to drive adoption
Kavita cited an example of one of her clients keeping both versions for almost 18 months after the Rev Tech tool implementation. The same client was a vociferous internal champion and made sure the teams used the Tool rather than falling back on old habits.
She feels Rev Tech providers have to understand this critical human side of the organization – the numbers have to tally else someone will lose their job. Hence RevTech vendors need to invest in a very strong customer success operation and always seek to over deliver.
With scale and speed as the twin measures of success , tooling for revenue is paramount and the Rev Tech revolution is her to stay .