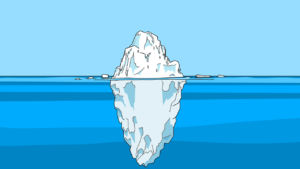 Writing credits- Evgeny Popov
When you run a quick keyword search of "addressability" on LinkedIn titles and get hundreds of roles, it is a clear indication that the time has come to write something provocative and radical as $100B+ on the subject. This narrative is dedicated to all adtech and martech communities who geek out on the future of tech and who are not afraid of three-letter acronyms that dominate the story. You know who you are. For everyone else, stop now. 🙂
Lets define the verbiage to be as lucid as possible.
Addressability is the capacity for an entity to be targeted and found.
Addressability is what connects buyers (advertisers) and sellers (publishers) to consumers across digital channels and devices. Terms "addressable audiences" and addressability will be used interchangeably going forward.
It is no secret that third-party cookies (3p) and mobile ad IDs (MAIDs) have an expiration date facing them, while marketers have 12 months to figure out activation strategies, measurement and attribution models that will be as effective as walled gardens and clean rooms.
Traditional syndication of audience and data relies on identity syncing (cookies) and/or pseudonymization (anonymizing via encryption hashing) of PII (Personal Identifiable Information) keyed against email, phone, and address attributes, which will cease to exist sometime in 2023.
Proliferation of clean rooms and walled garden environments will grow at a greater velocity than ever; however, it will not solve for mid- to long-tail publishers who don't have enough scale to invest in cloud infrastructure. SSPs might capitalize on the unique opportunity to become an aggregator to offer group PMPs and potentially become system integrators to offer clean-room-like capabilities for site conglomerates. Time will tell.
Outside of walled gardens and large publications with their own clean room setups, how do we apply targeting and syndicate audiences on an open web inventory?
To make it more tangible, based on major DSP spend analyses for 2021, the open web accounts for at least 30% (which is conservative, as some sources indicate 35%–40%) of total US digital spend. Using it as a proxy and projecting it for 2023 makes the question about the range between $75B and $100B+ an important one, as people are spending at least 66% of their time submerged in that environment.
How will marketers spend $100B post cookie deprecation in 2023?
We can speculate all day, but an effortless way is to move dollars to walled gardens, i.e., YouTube, Facebook, search, and publisher-enabled clean rooms as a get-out-of-jail-free card— what about an old trick of following cookies around and buying audiences on the open web? Let's review options below.
From:
Standard identity syncing and server-to-server data/attributes transfer for audience targeting
Hashed PII tied to CRM data targeting (still not widely adopted—shocking? Not!)
Machine learning for LAL modeling (often tied to soon to be obsolete signals like 3p cookies for activation is going away)
To:
A) Pseudonymization (aka hashed) PII syndicated to channels based on first-party CRM data
Requires intermediaries (think LiveRamp IDL) to handle PII translation.
Scale is questionable and relies on brands' first-party data footprint (think data acquisition strategy!).
Platforms will invest in LAL modeling capabilities, e.g., Google project Coda tied to Google Customer Match upload or Facebook Custom Audiences to bypass intermediaries to onboard PII data and scale scarce brands' first-party data (typically x 1,000% with minimum of 5,000 emails seed).
B) Authenticated traffic
Single sign-on (SSO), authenticated traffic solution (ATS) and UID 2.0 are the types of solutions typically keyed to hashed PII (email).
Addressability is questionable for two reasons: 1) the consumer opt-in percentage for solutions like OpenPass and 2) publisher adoption. The latter is likely to be much higher due to obvious monetization strategies tied to higher yield/CPMs. The former is yet to be measured but is currently in a single-digit percentage based on Tier 1 SSP bid stream data (Q1-22).
C) Interest-based ads (IBAs)
Aggregated/group-type targeting, i.e., FLoC for Chrome.
Keyword/topics (URL/page-level semantics, NLP-based classification).
Compound AI – using technographic data (user agent, IP, language, etc.), GEO, contextual and other non-cookie-based signals as input for machine learning for clustering and segmentation.
D) Signal targeting
Fusion – Deconstructing audience definitions on DSP level and mapping to similar data signals on SSP level without an identity sync. Data fidelity, provenance and veracity need to be validated and measured against accuracy and mapping translation quality. (This is a great business opportunity for data quality vendors to deliver as a DaaS offering.)
Behavioral Matching – Mining clickstream behaviors to score the audience (index highly against an array of attributes) and deploying the model to DSPs to find similar behavioral profiles
Contextual – Targeting beyond text with advanced contextual technology that uses artificial intelligence and machine learning to move beyond keywords, topics and categories while utilizing myriad supplementary data signals such as images, video, audio, and sentiment to name the few
I will try to summarize the above based on data type dichotomy: PII vs. Non-PII: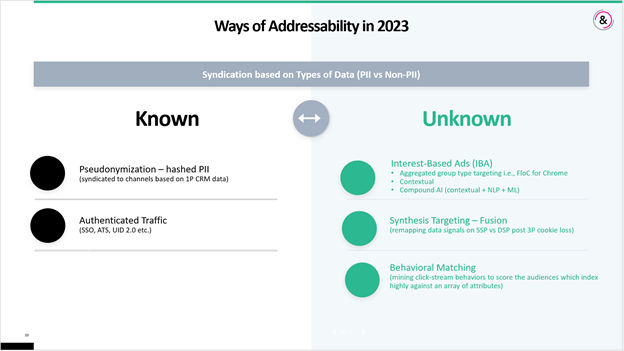 Lastly, urgency is paramount—2022 will provide a unique opportunity for the test-and-learn design of experiments to use cookie-based control groups (while we have them!) to measure efficacy on IBA, fusion and behavioral matching strategies.
In summary, in 2023, we shall see two types of addressable activations on known PII (A and B) and based on behaviors (C and D). What is yet to be understood is how $100B+ will be shared between the two and, more importantly, how much of it will be absorbed by walled gardens as an easy way out.
One thing is evident: Adtech vendors will have to fight even harder to win the share of the triopoly.