The world has changed post Covid
Four key trends are impacting all of us . Covid has changed the workforce forever. Digital is the preferred and only mode of customer engagement. Rapid proliferation of data, AI and ML has changed everything couple with higher consciousness towards sustainability , circular economy and climate change. I am not even talking about the fifth trend of metaverse, DeFi, web 3.
Startups are raising crazy amounts of money and building great companies
In today's world where a Series A fund raise can range from $15-$20 million and Series C is easily upwards of $100 mn. Armed with playbooks driven by founders, prior scale up experience and growth capital firms , this wave of funding is generating new age companies at a frenetic pace who are disrupting industries in a massive way with a 'software is eating the world' mindset. Talent magnets of yesterday like consulting firms and investment banks are losing their talent to startups. Just in deep tech alone, according to a recent MIT Sloan finding, annual investments in startups focused on commercializing emerging technologies such as biotechnology, robotics, and quantum computing grew in value from $15 billion to $60 billion in just four years.
Traditional companies need to invest in digital ventures as their future bet
Many companies are pumping up their innovation engine to launch new ventures. Corporate venturing was the second biggest driver of deep tech investments – with over $15 billion invested. New business building is more valuable than ever before for corporations. According to a McKinsey survey , 51% of companies consider building new business more important compared to only 30% in the pre Covid era. The key drivers for new business building are generation of alternate revenue streams with a stronger orientation towards the customer's changing needs , managing shifts in competitive landscape such as emergence of D2C brands in FMCG industries and protect erosion in future.
Investing is the easier part for well funded corporates. However execution driven by establishing a product market fit , challenging conventional organization thinking and creating a process for rapid trials are some of the critical challenges that CEO face in making it work.
Scaling new ventures requires a playbook
CEOs face challenges in understanding the tech landscape , vendor selection vs build in house , creating the founding team and establishing a review mechanism to see the progress of the new venture. However without a proper support structure, its tough to move fast. Spectra therefore provide people and a playbook for doing the most critical aspects of building and scaling – building and testing out several product options, fast validation from the market and customers and working with the initial team and the executive sponsor to build a rhythm and celebrate small wins , yet calibrate the tools, team and expectations to the larger strategic goals of the venture.
Spectra brings its DOTS methodology to full use for Scalesmithing. We help organizations demystify, design , deploy and deliver . Using proof points and a piloting platform that helps build quick MVPs , Spectra uses its large professional network to do demos to the first set of customers and establish product market fit. For organizations that have found its initial customers, the focus shifts to building the product roadmap and a repeatable playbook for certain customer facing processes.

Spectra's experience in deploying its playbook – ScaleSmith
Recently Spectra played the role of a scalesmith for an Indonesian data venture by creating the data platform in a record 5 months and helping its sales sand marketing teams embrace the data platform and provide a playbook for the go to market . For another OTT player , it helped hire a team of 15 people to run its monetization business in a span of 6 months and grew its monetization by 60% .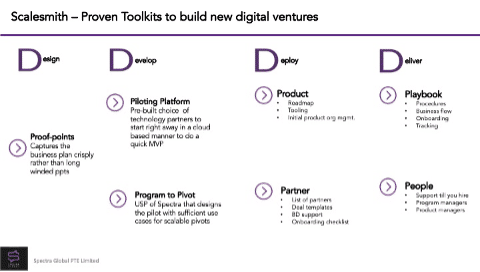 Playbook to build a venture