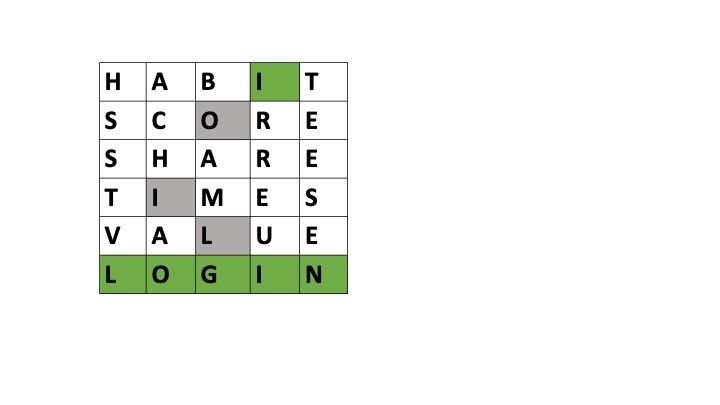 Wordle game
Habit, habit, habit
Digital lifestyle kills habits due to its constant accessibility. I lost my newspaper habit 12 year back because digital reading is lumpy and non comprehensive . Reading a newspaper end to end was a habit to gain knowledge and devoid of interruptions. Wordle brought back a daily habit like the crossword habit. Habits last and hence users do.
2. Score
We don't need NFTs to brag about , 3/6 is magical enough despite the endlessly memed analog brick layout. Simple games with easy to score and low barriers to entry still have a big market for non tech savvy gamers. Score was the adrenaline/coffee shot to start the day
3.Share/Tweet/Viral
Virality increases when scores get shared. No brainer. During Covid times we needed something to get closer with friends. Wordle chatter helped a lot especially taking conversations to some old GRE/ GMAT scores
4. Times
Why did Times buy it ? It wants to use wordle as a bait to get users to grow its subscription business. 135,000 of the 455,000 digital subscribers it added in its third quarter came from its games, cooking and product review sites , this can be amplified further with the acquisition. Another acquisition towards the goal of 10 million subscribers in 2025
5. Value
NYTimes bought Wordle for probably $ 4-5 million ( low seven figures) . That seems cheap for a daily habit that the world got engrossed in. However it has no monetization value yet. There are no ads and will people $1/day to play worldle .. unlikely… Then there are many wordle ripoffs and extensions already in the market , so its not a proprietary product to be patented, no unique tech. Hence NYTimes is probably paying less than 30 cents per user. Facebook an addictive neurological habit that people view 3-4 times a day – is worth $400+ per user . Addiction monetizes better than habits.
6. Login
What will NYTimes do ? It says the game will continue to be free to play. Most likely it will make us login to play worldle. The data can be quite valuable and can be harnessed to drive subscriptions and other services. If every Wordle user reads 3 pieces of content on NYtimes and there is an user drop off of 50% after the acquisition, roughly that can 300 million ad impressions that can be monetized for $3-5 CPM ( mix of banner and video ads) , roughly $ 1 mn / month. So this acquisition could pay off in 6 months for NYtimes . If the drop off is higher and readership is lower, it will breakeven in 18 months. Not bad